What am I noting today?
November 17, 2019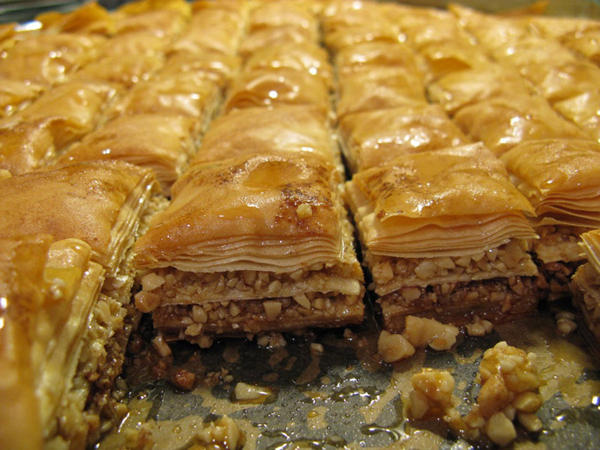 Today is National Baklava Day
Here is a recipe – for BACON baklava.  I have not made this, but I keep meaning to.
1 cup chopped walnut pieces
1 pound plus 3 oz. bacon, chopped
3/4 cup packed light brown sugar
1/2 teaspoon red chile flakes
1 cup butter, melted, foam skimmed
1 pkg. frozen filo dough (1 lb., sheets about 13 in. by 17 in.), thawed
1 cup (12 oz.) orange marmalade, preferably thin-cut, such as Bonne Maman
1/4 cup orange-flavored liqueur, such as Cointreau
How to Make It
Preheat oven to 350°. Roast nuts on a rimmed baking sheet until dark golden brown, 8 to 10 minutes.
Cook bacon in a large frying pan over medium-high heat, stirring often, until crisp, 10 to 12 minutes. Transfer to paper towels and let cool. Set aside 1/4 cup.
Mix nuts, brown sugar, chile flakes, and larger amount of bacon in a medium bowl.
Use a pastry brush to lightly coat a 9- by 13-in. baking dish with some melted butter. Arrange a sheet of filo in dish, crinkling so it fits. Brush with about 1 tbsp. butter. Layer 2 more sheets the same way, pressing down lightly before brushing with butter. Sprinkle 2/3 cup bacon mixture over filo.
Repeat layers of 3 sheets of filo, butter, and bacon mix­ture until you use all the ingredients, ending with 4 sheets of filo. Brush any remaining butter over the top.
Using the tip of a paring knife, cut baklava lengthwise into 1-in.-wide rows. Cut off a corner. Working from there, cut baklava crosswise on the diagonal into 1-in. rows to make diamond-shaped pieces. As you work, hold down top layer of filo with your fingers on either side of knife.
Bake baklava until deep golden brown and flaky, about 45 minutes. In the last few minutes, heat marmalade, liqueur, and 1/4 cup water in a small saucepan, stirring, until mixture starts to boil. Pour hot mixture evenly over baklava and let cool completely. Cut into pieces and top with reserved bacon.
Make ahead: Up to 1 day, chilled airtight.